How To Enjoy The Party Cove At Possum Kingdom Lake
Take a quick look at the video above, and you'll see why Hell's Gate is so popular all across Texas.
It's pretty much made exclusively for relaxing with friends!
However many of you may not know the best way to enjoy the water.
Maybe you think you have to rent a boat, or tow one in all the way from wherever you live in state. Or maybe you think you just have to go without enjoying the water if you don't
It's actually quite easy to enjoy the lake!
Let's dive into a few of your options and help you plan a great summer getaway at Possum Kingdom Lake…..
The Perfect Weekend Trip Itinerary For Possum Kingdom Lake
There's plenty of activities to pursue at PK (Possum Kingdom for short), but we don't want you to get overwhelmed if this is your first trip!
Here's what we recommend you do…….
Arrive Friday evening, and find a campsite available at PK State Park. You can reserve one ahead of time of course and there are also hotel rooms available at "The Cliffs" and "The Harbor." Both resorts have marinas available too as well as restaurants.

On Saturday Morning, go for a hike along any stretch of the Possum Kingdom Trail, which has several trailheads on Park Rd 36.

Saturday Afternoon: rent a kayak at one of the marinas, rent a jet ski or pontoon boat, or join us here at Trinity Paddle Co for a paddle boarding session. Keep reading to learn about the Hell's Gate experience we'll give you if your join us……

Saturday Evening: enjoy dinner at one of the restaurants at the Cliffs or the Harbor.

Sunday: return home
This should give you an overall idea of what to do here at PK, but one thing you don't want to miss is the Party Cove…...
Why The Party Cove Is A Big Deal
Of course, everything is bigger in Texas, and that includes the parties too!
Just look at the image above and all the boats lined up together……
If you want to come and enjoy this yourself, there's the possibility of renting a boat at one of the marinas.
However you've only got it for a certain amount of time, and rentals can be pricey. This is an option though!
You can just rent a boat, drive it to the cove, and set yourself up for the afternoon or the entire day if you want.
Plus, you may get a chance to enjoy the cove during a big weekend like the Red Bull Cliff Diving Competition or for a concert.
You Can Use A Kayak At The Marina But A Paddleboard Is Way Better!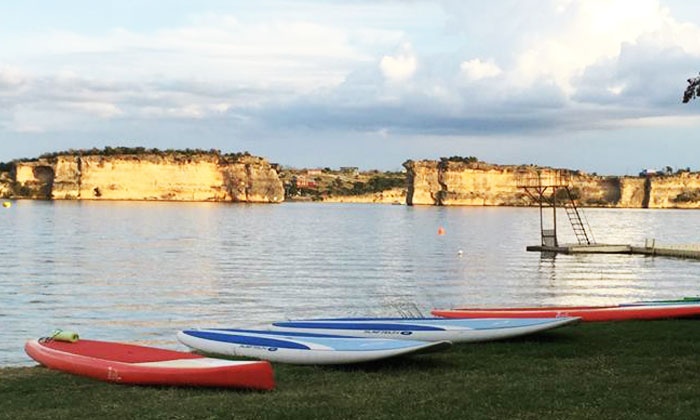 Kayaking is a great way to get around the lake, but it can get exhausting coming from one of the other marinas all the way out to Hell's Gate.
Plus, a SUP rental can be very inexpensive too. You can rent one for the entire afternoon for just $25!
We're also the only company with direct access to Hell's Gate.
Don't be afraid if you've never done this before either. If you have the ability to stand on a coffee table, you can stand on a stand up paddle board.
We also offer discounts for groups of 4 or more.
Click the image below to learn more about reserving a SUP session. We hope you'll come and enjoy the lake with us very soon!
---

Ever wanted to learn more about Possum Kingdom Lake?
Chances are that you're the type who likes to get outdoors and away from the big city of DFW every once in awhile.
However you may also want to avoid going someplace you don't know that much about either.
Well that's why we're here to help! In this article, we're going to go over some of the activities you absolutely MUST do while you're here.
There's plenty for a nice day trip, or for a couple of days of camping.
Let's dig in!
What's The Big Deal About Possum Kingdom Lake?
Possum Kingdom Lake is its own state park that has a wide variety of outdoor activities for you to enjoy!
In addition to the crystal clear blue waters, there's also plenty of shores to fish from, trails to hike and bike around, and of course some wonderful places to boat and paddle board on.
Trinity Paddle Co operates next to the cliffs to the south of the lake that we call "Hell's Gate."
Beyond the two cliffs that stand before the area we paddle in is a cove where the waters are very calm. Many boats will also go inside this cove to tie up together and party!
The lake is about 80 miles west of Fort Worth, and Hell's Gate is one of the most easily accessible areas.
Check out the video below to see an amazing drone video of the place!
Boat, Jetski, Kayak, Or Paddle Board The Lake Of Course!
The lake itself extends for over 65 miles!
That means there's plenty of room to do whatever water sport you choose from canoeing, kayaking, boating, or paddle boarding. 
Many kayakers will choose to kayak on the Brazos river itself, but many also kayak on the lake itself too.
For boats, there's several marinas in the area where you can dock and launch whatever type of boat you may use.
Check out Bluff Creek Marina, the Harbor Marina, or Bonita Shores Marina for more info on how to prepare for your arrival.
As far as safety, there's no concern over dangerous wildlife at Hell's Gate. Plus, it's a no wake zone!
Jump Off The Bluff Near The Harbor
Along with the calm waters, the cliffs bring plenty of chances to jump into the water too!
Back in the day, some would jump right from Hell's Gate!
Nowadays though we must only jump from cliffs with a 25 ft maximum height. You can do this from the bluff over at the Harbor Marina!
Camp At One Of The Sites Near The Lake
Because the lake is so big, there are a wide variety of camp sites to choose from.
You can bring an RV, set up a tent, or sleep right under the stars by the lake's shoreline.
The Brazos River Authority has several of its own camp sites, and the State Park maintains campgrounds of its own as well.
Sky Camp and Rock Creek Camp are another two that are private campsites.
Enjoy A Wide Variety Of Outdoor Activities
Now with everything we've just told you…..imagine the kinds of trails and fishing there is!
You can fish for striped bass, catfish, and crappie amongst several others. Several areas will have a fishing pier and fish cleaning station too.
Plus, you do not need a fishing license to fish from the shore in a state park.
If you want to hike or bike, then the Possum Kingdom Trail will offer plenty of wildlife sightings, flora and fauna, as well as scenic views of the lake.
However it will get hot in this area so prepare to bring plenty of water! There's also snakes in the area too you should be aware of.
Visit The Resorts At The Cliffs Or The Harbor
This is where you need to go if you want to enjoy a restaurant, go shopping, or stay in a hotel room in the area.
The Chaparral Grille at the Cliffs is a very popular spot to eat in the area, while the Harbor boast The Grille.
So Are You Coming?
We hope so! As you can see, there's plenty to do and see here at the Lake no matter what you're into.
However we of course hope you're going to join us for a paddle boarding adventure for at least one day.
Give us a call at 817-799-8996 to reserve a rental, or use our website to book a reservation.
---